After seven years of living aboard and sailing around San Francisco Bay, I have sold my sailboat and gave up my slip in Sausalito.
How did this all start?
In 1999 I was in graduate school and wasn't making enough money at my part-time motorcycle shop job to rent an apartment of any size. My choice was either to live at home with Mom (at age 28) or to find some other solution. One day my best friend (who's family owned a fishing boat) suggested I live on a boat. I scoffed at the idea, stating it was likely too expensive and impractical. He quickly explained that actually owning a boat was not very expensive (a few hundred dollars per month) and that quite a few people live aboard.
Exactly one month to that day, I found myself living on a sailboat. At first, I told myself I'd live aboard for only two years; it would be a temporary thing. But after two years, I looked back noting all the unbelievable experiences I'd had and all the money I'd saved (over $24,000 in two years), and I realized living on a boat was an excellent place to be.
Five years later I upgraded to the vessel pictured on the right. I have now lived on board for a total of more than seven years, and enjoyed nearly every moment of it. I have learned a great deal about myself, saved over $88,000, have far too many memories of awesome experiences to count and have made many life-long friends.
Why are you selling the boat?
I am going to start a family of my own and live on land. Although there are many families who live on boats, continuing to live aboard at this new stage of my life seems impractical. There are many aspects of living aboard I will deeply miss, and one day I may return to the water.
If not for wanting to start a family and some very fortuitous circumstances, I would still be living on a boat.
Why on Earth would I want to live on a boat?
The best answer is really rather simple: To save money. The average one-bedroom apartment in Marin County goes for between $1,200 and $1,500 per month. And that's just for an average one. The average two-bedroom rents for a lot more, especially if it has decent parking and/or a view. In a year you might easily spend $20,000 and live with people on the other sides of your walls. If you rent, when you leave, all the money you spent is GONE.
Although obviously somewhat smaller, this vessel has two full staterooms, providing the owner with quite a bit of interior space. The mortgage on this vessel is about $400 per month. A little more than 1/3 of this payment goes directly in your pocket as equity. The slip fee is about $338. If you pay it, the liveaboard fee is $150 per month. Utilities are nearly negligible.
Doing the math, this translates to about $900 per month (with the liveaboard fee). But then there's that bit of equity in the boat: $150 per month. So your net monthly cost is only about $750. Parking is easy, you have the most incredible 360 degree views, you have no neighbors, and you own a boat.
Other than money, I could write for years about the wonderful experiences I've had here. Living on a boat is so much more than I ever imagined. I have routinely travelled via water to restaurants, friends' boats, work and Angel Island. I have sat in the middle of some of the most violent storms we have seen in recent years. I have watched the fog roll over the Marin Headlands, dropped anchor in Richardson Bay for the weekend, shot my potato cannon off the dock, drank the night away with friends on our boats, spent the day cruising around the bay, met and enjoyed the friendship of some of the oddest characters.... It goes on and on and on.
And it's so quiet at night! Although the freeway is only 1/2 mile away, at night living aboard is often a soothing silent experience.
So to sum it up:

• Save nearly $1,000 per month.

• Quiet living.

• No neighbors.

• Easy parking.

• Incredible views.

• Learn a lot about yourself.

• Unique and awesome experiences.

• Build your credit record (if applicable).

• And you own a boat.

What is this "liveaboard fee" and why could I choose not to pay it?

There are three basic classifications of people who live on boats: 1) Anchor-Outs, 2) Sneak-Aboards, and 3) Live-Aboards.

"Anchor-Outs" are the people, usually pretty down on their luck, who live on some of the boats anchored out in the middle of a bay (in this case Richardson Bay). This is, at best, a pretty rough way to live. An Anchor-Out has to haul his or her fresh water out to the boat (yes, there are female Anchor-Outs), usually by means of a small skiff or rowboat. Electricity is provided either by a small generator, or solar cells, or wind power and is usually very limited. Living as an Anchor-Out is more like camping on the water (in the most hostile of commonly approachable environments) than anything else.

"Sneak-Aboards" are those who live on board a vessel moored in a marina, but have not told the Harbormaster. This is the first stage of living on a boat, and it is where everyone who wants to live on a boat starts out. These days, there are very few "grandfathered" live-aboard slips (meaning that the live-aboard status transfers from one owner to the next) and they are usually occupied by houseboats. These few slips are usually very expensive and are thus not worth the investment.

Sneaking aboard is not illegal. It may be against a marina's policy, but there is no law stating you may not live on a boat. Municipalities don't care for people to live on boats because people who live on boats do not pay in to the land-based tax collection. Even if you rent an apartment, part of your rent (factored in) is a tax payment to the municipal government. Therefore, the municipalities (in this case Sausalito) try to impose a limit on the number of live-aboards "allowed" in the marina. A common number is 10% of the total marina capacity.

In truth, Harbormasters like people who live on their boats. This is because people who live on boats moored in marinas tend to pay their bills on time, report problems, and assist other occupants of the marina. This makes things very easy for the Harbormaster. So very often, Harbormasters will let good people, who are sneaking-aboard, slide. You keep your dock clean, your boat in good condition, and your bills paid on time, and things are generally okay.

"Live-Aboards" are those who have passed the "sneak-aboard" test and now pay a fee to the marina and who are thus properly "allowed" to live on their boats. Getting here takes time. If you approach a Harbormaster and openly state you want to live on your boat, the Harbormaster will have no slips available for you. (There are some marinas, several in the San Francisco Bay Area, who openly accept live-aboards - but these marinas are generally in the less popular areas.)

I was a "Sneak-Aboard" for 3 years before I was sent a bill which included a live-aboard fee. I saved $150 per month for 3 years ($5400), all the time living full-time on my boat. When I approached the Harbormaster about the bill, it came down to the fact that a "live-aboard" status had become available (people come and go from marinas all the time) and I'm a pretty good guy. The Harbormaster (a pretty good guy himself) decided I was okay (I'd always paid my bills on time, never caused any problems, and kept my boat and dock clean) and that I could stay. So then I began paying $150 per month. Gosh, twist my arm.

The live-aboard fee is not so much a bribe, but a sign of acknowledgment between the Harbormaster and the occupant of a boat. Paying the fee does not guarantee you won't get booted any more than when renting an apartment, but it is an acknowledgment of status and it seems to work.

As an aside, I have seen only two people get booted from my marina in oveer seven years. One was a sneak-aboard who had not paid the marina bill in six months and who constantly had crap strewn all around the dock. The other was a live-aboard who got drunk fairly frequently (in a loud sort of a way) and who on one occasion decided to get belligerant with the Harbormaster. Not a good move.

Isn't a boat just a hole in the water which swallows money?

Not if you live on it. If you live on the boat, it becomes a hole in the water out of whch you pull money.

Don't boats require a lot of maintenance?

Older boats made of wood require a lot of maintenance. This vessel is nearly entirely fiberglass and thus requires just about no maintenance. Hose it down and scrub off the decks twice a year (more if you want to), have the zincs changed once a year, paint the hull every few years, change the engine oil once a year, and (optional) oil the small amount of teak wood about once a year. Change the fresh water filter about every three months. And that's about it. Far less maintenance than most people think.

Do you get seasick?

No. When I first got on the boat back in March of 1999, the wind blew fairly steadily for about three days. Because I was used to terrestrial living, I did what I normally would do, and stayed indoors playing on the computer. I was sitting sideways on the boat and could see out the starboard window. After a bit, feeling the boat move and watching the boat next to me move around made me slightly queasy. However, I noticed that my body fully acclimated to the boat's slight movement over the course of three days. These days I wouldn't get sick if left inside a clothes dryer.

In addition to this natural resistance to seasickness, I have found an incredible sense of balance. I never used to be able to walk a balance beam (or a railroad track). These days (largely due to walking about on a boat) I could skip down a railroad track with my eyes closed. (I have, in fact, hopped from berm to berm in parking lots with my eyes closed.)

Does the boat move much?

No. Everyone seems to think it rocks back and forth a lot. Not so. When the wind blows hard enough, the boat leans over a little (about 1-2 degrees on average) and just stays there. At night there is seldom any movement.

So why this boat?

I bought my first boat rather quickly and with extremely limited funds. After five years of experience out here, I learned what sort of boat would make a good home, what features were necessary and what features were bonuses.

First, you need a boat of less than 36' in length because finding slips for larger boats is a) difficult and b) expensive.

Second, for approximately the same money it's really hard to find a power boat which will afford the owner as much room as a sailboat.

Third, a two-stateroom vessel is a must for all practical purposes. We, as human beings, have stuff with which we must live. That stuff has to be kept somewhere. The extra stateroom is pretty necessary to leading a clutter-free life.

Fourth, the second stateroom should be an "aft-cabin" stateroom, underneath the cockpit. This design maximizes the space available.

Fifth, the boat manufacturer should be a large company, preferrably still in business. This makes getting information and parts (if necessary) much easier. Hunter is one of the best boat-building companies in the world.

Sixth, the boat should be in good cosmetic condition, indicating little use or good care. This boat has only 627 hours on the clock and there are no stress cracks in the gel coat. None. She is probably the best-kept vessel of her kind.

Seventh, the boat must have a diesel engine. Gasoline engines consume more fuel and can give off fumes which can be very dangerous. Diesel engine also last a LOT longer.

On the bonus side, the following are not totally necessary, but truly excellent to have aboard:

Built in refrigerator-freezer

Built-in gimballed stove / oven

Built-in microwave oven

Working shower

Walk-through transom

This boat has all of that and more. Please see the Features list below.

I looked at a lot of boats for a very long time. This is definitely one of the best all-around sailboats a person could own / live aboard.

Does the boat sail well?

Absolutely. This boat is made right. A combination of awesome configuration, excellent hardware and downright good design makes this boat easy to handle even in tough situations. With the autopilot, one person can easily maneuver this vessel pretty much anywhere. Although I have never taken her outside the San Francisco Bay, the Hunter 33.5 is made for far longer journeys. Think Hawaii.

How about the specifications?

1992 Hunter 33.5

Dimensions:

LOA: 33' 4"

LWL: 29'

Beam: 10' 11"

Draft: 4' 6"

Displacement: 11,000 lbs

Ballast: 4,500 lbs

Mast Height: 53' 5"

Headroom: 6' 5"

Fresh Water: 50 gal

Fuel: 22 gal

Engine: 27hp fresh-water cooled diesel

Upgrades:

Fresh-water filtration system

Alpine CDA-9827 stereo with remote

New bilge pump and switch

47 sq ft of Dry Deck above and below

Sanitation system completely rebuilt

Custom aft stateroom mattress

All new dock lines

Features:

Furling jib

Dodger and bimini

Auto-pilot

Walk-through transom

Bow perch

Stand-up shower

Built-in refrigerator and freezer

3-cylinder 27hp Yanmar diesel

Alcohol-burning stove and oven

Built-in microwave oven

1500 watt power inverter

Dual 12 volt / 110 volt power systems

3 group 27 deep-cycle batteries

Ample storage

2 hanging closets

Fresh-water deck fill

Lifesling overboard rescue system

Loran navigator

Marine CB radio

Dual stainless steel sink

5 Lewmar opening deck hatches

1 Lewmar non-opening deck hatch

7 Lewmar opening port holes

8 Lewmar non-opening port holes

Cherry wood floor

Cherry wood and teak trim

Dual life lines

Swim-step ladder

Additional Items:

Hand-held GPS

17" Magma barbecue

2 electric heaters (& timers)

Expandable deck brush

Expandable boat pole

Ample supply of extra lines

Five life-vests

Fishing pole holder

50' deck hose

25' fresh-water hose (& fill-adapter)

50' 30A marine-grade power cord

100' marine-grade telephone cord

Outside seat cushions

Manual bilge pump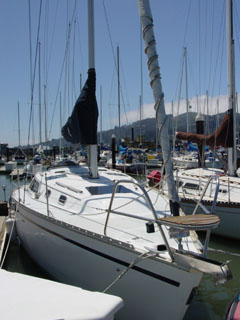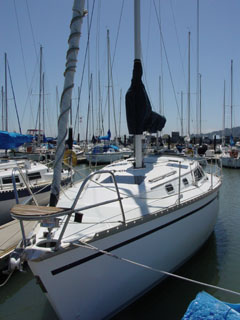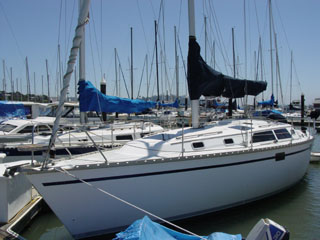 Hypolimnion in her slip.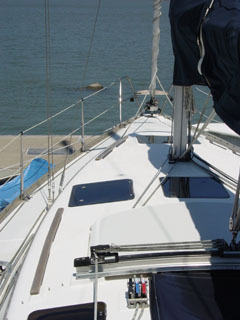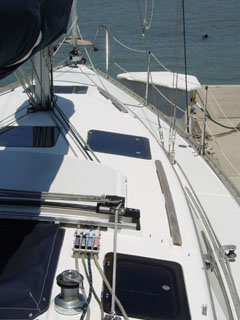 The deck is spacious, relatively clear and sports modern hardware.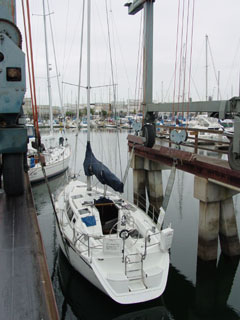 Hypolimnion being hauled out for inspection and under sail.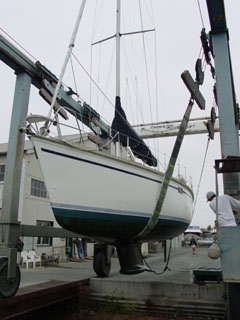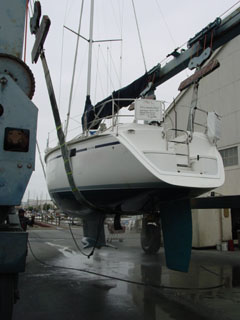 Hypolimnion hauled out for inspection. Note the shallow-draft wing-keel and large rudder.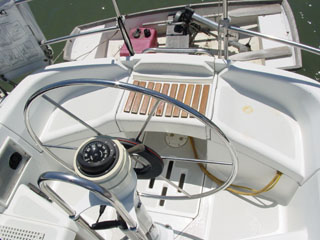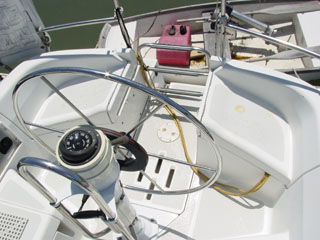 The walk-through transom and fill-in seat.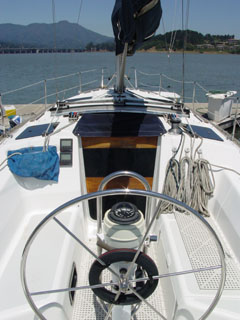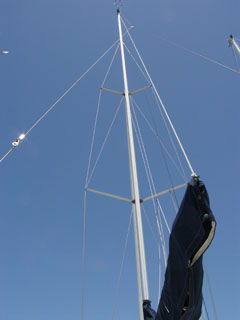 The cockpit and rigging. Note the split backstay and dual spreaders.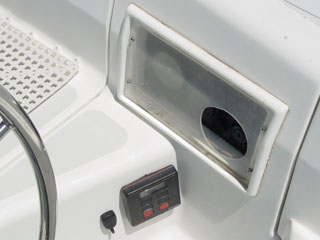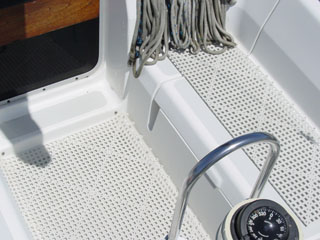 The autopilot and exterior Dry Deck.

Floor plan. Note the 8' length on the aft cabin bed.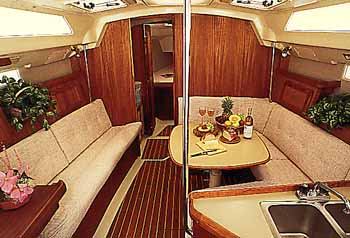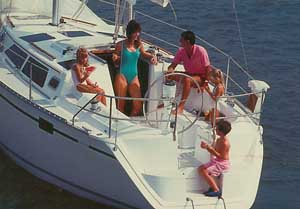 The salon and some random family (from a Hunter pamphlet).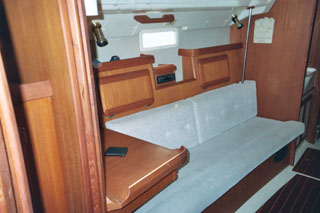 The port and starboard settees (looking forward). The port couch is a great place to stretch out.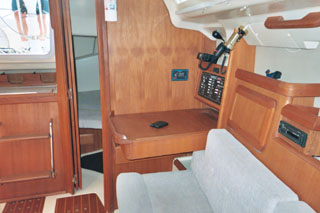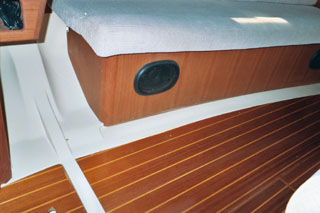 The nav station (looking aft) and the cherry wood floors. The floors are nearly perfect.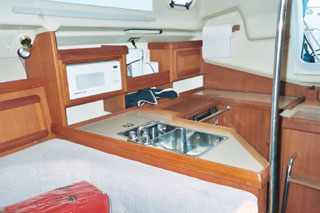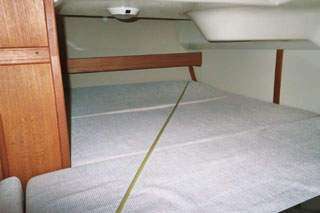 The galley (looking aft) and the aft cabin bed (it's really big).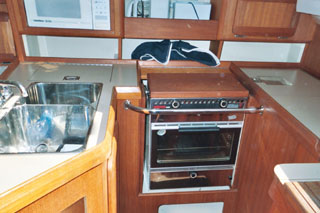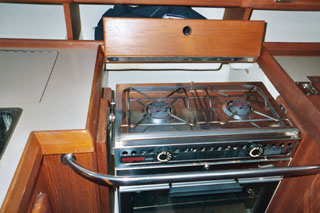 The gimballed stove and oven (with cover on and off).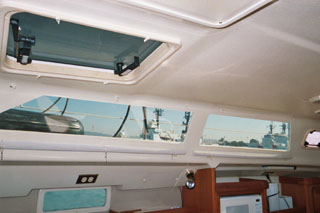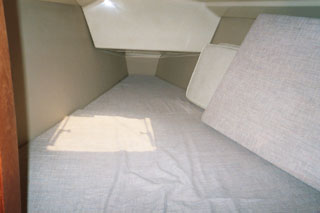 Looking out the starboard main windows and the forward cabin bed (a really cozy place).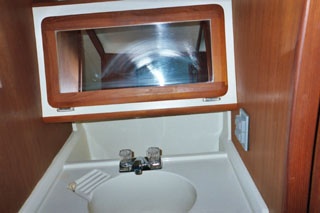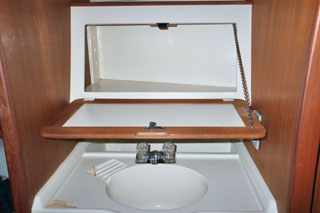 The medicine cabinet and head sink.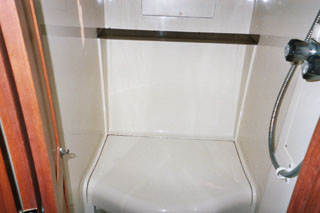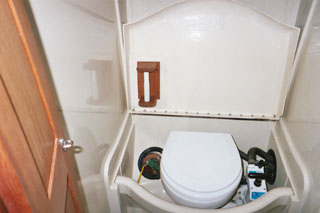 The head (with cover down and up) and shower. The shower works remarkably well.

Sunrise from the stern.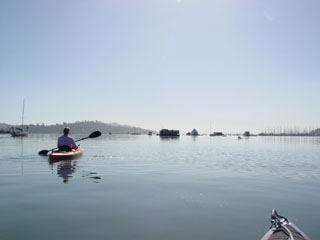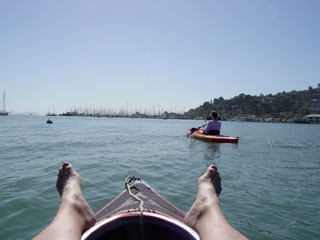 Kayaking through Richardson Bay is one of the most relaxing experiences ever.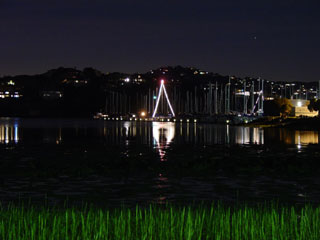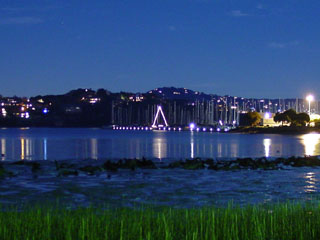 Christmas lights are always fun.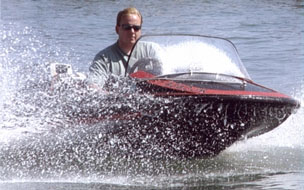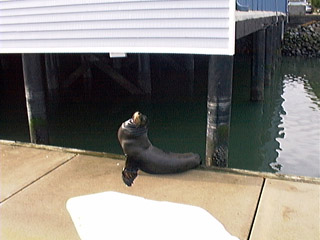 Left: Out cruising around Richardson Bay. Right: A visitor to the marina.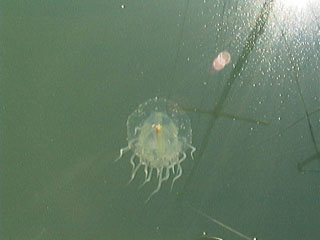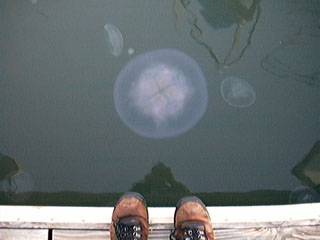 Left: A jellyfish only 1" across. Right: A jellyfish about 16" across (and family).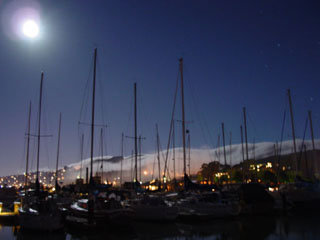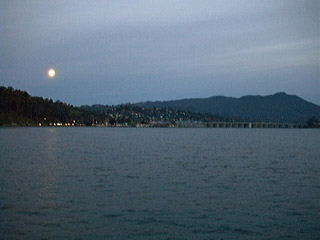 Left: The fog rolls over the Marin Headlands at night (that's the moon). Right: The largest full moon.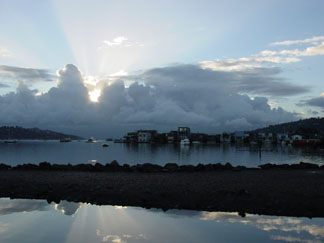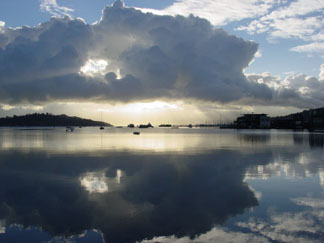 Random cloud photography.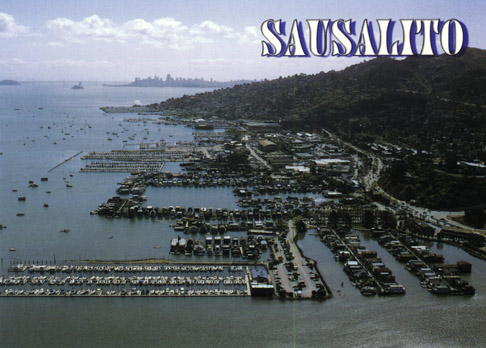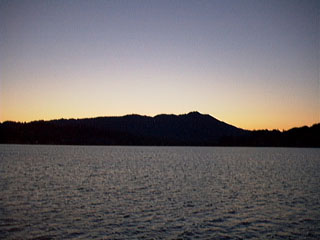 Left: Ricardson Bay Marina is in the foreground. Right: Mt. Tamalpais (The Sleeping Lady) watches over Sausalito.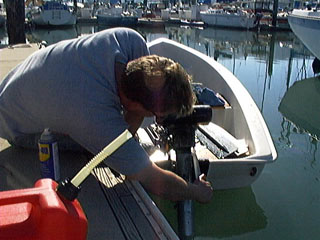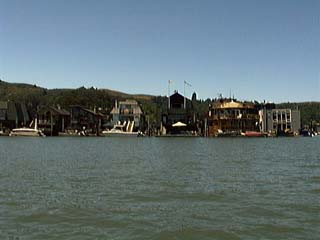 Left: Me, tinkering with an antique outboard motor. Right: Some houseboats from the water.
---
Living aboard a boat has provided me with some of the most memorable and valuable experiences of my life. If I were not starting a family now, I would stay right here for as long as I could.